#top-section gradient-section promo-section row-end col-sm-4 promo-box
Vote Now
It's time to place your vote
Place your vote before midday Friday 18 October 2019 to decide this year's winners for the following three categories:
• Family Law Chartered Legal Executive of the Year
• Family Law Clerking Team of the Year
• Family Law Commentator of the Year
If you have any questions regarding the voting process please contact
Linda Blaker
.
#top-section gradient-section promo-section row-mid col-sm-4 promo-box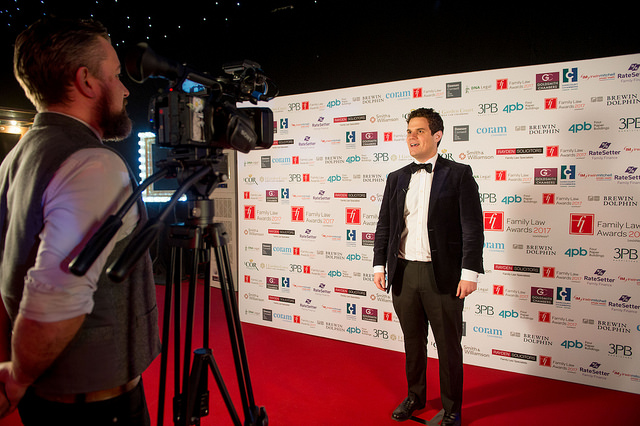 Become a Sponsor
Sponsor an award
The Family Law Awards offer unique branding and sponsorship opportunities, including extensive pre- and post-event exposure through advertising and editorial coverage.
#top-section gradient-section promo-section row-end col-sm-4 promo-box
On the night
Celebrating excellence
The Family Law Awards 2019 will be held on Wednesday 27 November at The Ballroom South Bank, one of the most exclusive event venues in London, to celebrate excellence in family law.
gradient-section block-section row-start col-md-12 center
About the Family Law Awards 
block-section row-mid col-md-6
The Family Law Awards were launched to recognise the important work of family lawyers, and celebrate their many successes and outstanding achievements.
Once again, we will welcome entries in both national and regional categories. For further details see the
regional awards page
.
The shortlist and winners will once again be chosen by a judging panel made up of the heads of the Family Law Bar Association, Resolution and the Association of Lawyers for Children, along with Family Law editors and publishing executives.
This year we have introduced 2 new categories; Family Law Dispute Resolution Team of the Year and Family Law Innovation of the Year.
In keeping with tradition, three of this year's Awards will be voted for by the family law community. A shortlist of four entrants will be selected by the judges from the entries received and voting will open here in September.
Over the past 9 years, the Family Law Awards have firmly established themselves as a highly prestigious event, celebrating the success and achievements of family lawyers and the vital contribution that they make to society. Last year's ceremony was attended by over 500 guests drawn from across the family law community, including solicitors' practices, the Bar and the public sector.
Please note: We are not accepting nominations this year, only entries.
If you would like to nominate a firm, chambers or individual please contact them and encourage them to enter direct, perhaps forwarding a testimonial to help strengthen their entry. An organisation/individual can enter as many categories as they like. Entries received direct from the organisation/individual are always more detailed and therefore have a greater chance of being shortlisted.
gradient-section row-start row-end col-sm-12 center
A prestigious location

The Ballroom South Bank is a stunning marquee structure that is situated behind the National Theatre, an ideal location for high-profile awards ceremonies. It is one of the most exclusive event venues in London, the unique and innovative venue will make this year's ceremony unparalleled in grandeur and excitement. This year's black tie event will feature a sparkling drinks reception, three-course meal and plenty of time for networking with the best of the industry. An after-party will ensure that this year's celebrations continue into the night.
Directions
block-section gradient-section row-start row-end col-md-12 center
Our judges
The judges have been carefully selected on the basis of their considerable experience and expertise in relation to their awards category and we are delighted that a number of leading figures from the family law profession and beyond have chosen to become involved with the Family Law Awards.
View all judges
quote-section center gradient-section row-start col-sm-12 slide
"It was such a surprise to have been shortlisted let alone win such a prestigious award. Winning was an endorsement of how important it is to ensure that the challenging needs of our diverse and changing society are met and that we continuously look for appropriate solutions."
Nazia Rashid
Anthony Gold Solicitors
Winner of Family Law Associate Solicitor of the Year, 2018
quote-section center gradient-section row-mid col-sm-12 slide
"Winning the 'Clerking Team of the Year' award was a very proud moment for me and my excellent and highly dedicated team. 2018 was a very successful year for Chambers and was also the year of our move to Lincoln's Inn Fields and our rebrand, we were delighted to receive the accolade from the Family Law community."
Paul Harris, Senior Clerk
1GC|Family Law
Winner of Clerking Team of the Year, 2018
quote-section center gradient-section row-mid col-sm-12 slide
"I was delighted to win this award because the judges come from the sector in which I work so it is very much one's peers who are granting the award and the recognition. Having been doing this job now over nearly 40 years it is wonderful to be so recognised."
Gillian Bishop, Director
Family Law in Partnership Ltd
Winner of Family Law Partner of the Year, 2018
quote-section center gradient-section row-mid col-sm-12 slide
"We are honoured to be recognised by the Family Law Awards as Law Firm of the year for the Midlands and delighted that we have been recognised for our dedication to delivering for our clients."
Shane Miller, Director and Head of Family
Thursfields Solicitors
Family Law Firm of the Year – Midlands, 2018
quote-section center gradient-section row-mid col-sm-12 slide
"I feel deeply honoured to have won the Family Law Commentator of the Year Award 2018. The Family Law Awards are a benchmark of excellence and highly respected throughout the family law community."
Graeme Fraser, Partner
OGR Stock Denton LLP
Family Law Commentator of the Year, 2018
quote-section center gradient-section row-mid col-sm-12 slide
"Winning the Family Law Firm of the Year-Wales was a great honour and it recognises the hard work and dedication of all our staff who go that extra mile at Nicol Denvir Purnell."
Joanna Purnell, Partner
Nicol Denvir & Purnell
Family Law Firm of the Year – Wales, 2018
quote-section center gradient-section row-mid col-sm-12 slide
"To be a family solicitor is a privilege in itself, and so to even be considered for an award is a tremendous honour. I am very grateful."
Elizabeth Simos, Solicitor
KMJ Solicitors
Family Law Young Solicitor of the Year, 2018
quote-section center gradient-section row-mid col-sm-12 slide
"I am absolutely delighted, and never imagined I would be shortlisted let alone win. I presumed all the winners would be based in London - but they are not!"
Sally Fitzherbert, Chartered Legal Executive
Hopkins Law, Cardiff
Family Law Chartered Legal Executive of the Year, 2018
quote-section center gradient-section row-end col-sm-12 slide
"It was an honour to have been shortlisted for and won the award."
Alex Laing, Barrister
Coram Chambers
Family Law Young Barrister of the Year, 2018
timer-section center row-start col-sm-12
Countdown to Awards night
timer-section center row-end col-sm-12
block-section grey-section row-start row-end col-md-12 center